Oh how I love an auto show, a whole building filled with new cars and the and new car smell. Multiple manufacturers gathered in one building to show me the best of their new line up. Concept cars, eco cars, Italian cars, it's the best. This years Portland Auto show was even better than years past. Mazda's booth is built for fun, and to make it memorable they incorporated an alternative gaming station, STAR Mazda racecars, a spec Miata, and us, CorkSport.
Mazda North America first contacted us several weeks before the show about joining them at the Portland Auto Show with our Mazda 2. A few days later the MazdaSpeed 3 was added to the lineup. Then the fun began: prep-work.
Anyone who has ever entered their car in a show of any kind will totally understand that the prep-work is really hours of cleaning and scrubbing followed by tons of polishing and buffing. It's standing outside in the cold January weather washing cars, scrubbing tires and trying to dry the car while you still have a little feeling left in your fingers. It's cursing whoever drove the car last and didn't clean-up right, but in the end its just so worth it because the cars end up looking beautiful.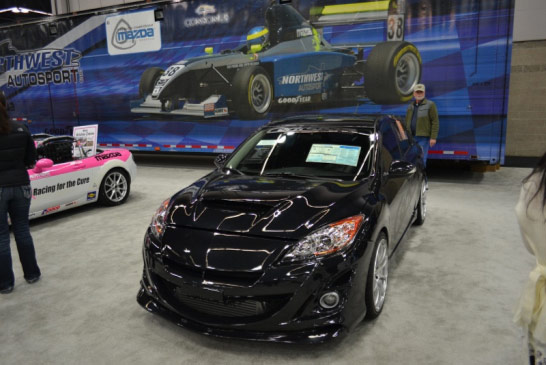 All the cleaning and prep aside, there is always a little disaster that drops in at the last minute. We like to refer to these disasters as "team builders", because it takes the team to fix the disaster before it turns into a gulf spill that spews for months on end with no resolution. Our little disaster was the hood on the 2. About a month before the show the 2 took a direct hit from a piece of tire that was kicked-up by an SUV in front of us on our way to a MazdasNW meet. No one was injured but the 2's window and hood were done. Fast forward to the auto show, window was fixed weeks ago, but we weren't able to get a hood that wasn't damaged in transit until just before the show. After much debate and several vinyl peel-offs we finally struck gold with simplicity. We cleaned the hood, polished it up and dropped a CorkSport logo across the top of the hood at an angle. It turned out great and the disaster was capped.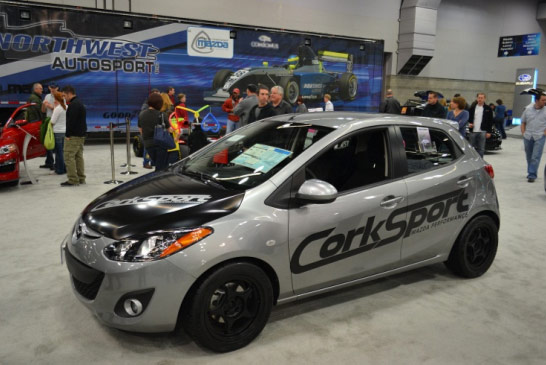 After all was said and done, the cars got dropped off on time and look great in the Mazda booth. Thanks again to Mazda North America for the invite, we really enjoyed the opportunity to be a part of the show.
– Kelly