I recently received an email asking which CS part combinations would be the best way to achieve a 40+ horsepower gain in the 2010+ MazdaSpeed 3 without breaking the bank, or having your significant other make you call and cancel your order.
Your new MS3 breathes just like you do. Maximizing the intake of air and freeing up the expulsion of used gasses (exhaust) will help your vehicle breath better, and go faster.
On the intake side of things, you can get our Short Ram Intake which includes our mandrel bent turbo inlet pipe and custom designed MAF housing and silicone coupler. This will free-up flow into the turbo and allow your MS3 to breath deeper. The average gains seen here are 10-15 hp.
For exhaling, you want to expel all those used gasses as quick as possible. With the CS turbo-back exhaust, you are reducing the back-pressure and allowing your MS3 to utilize the potential of its turbo. The kit comes with Corksport's full 80mm catback dual exhaust, racepipe, and downpipe. This setup will give the average MS3 owner 28-31 hp at the wheels for just over $1,000 for all 3 parts.
Shown below is our 2010 Mazdaspeed 3 with the CorkSport Short Ram Intake & Turbo-back exhaust compared to our car completely stock. The before number is 226 hp and came out to 272 with the SRI and Turbo-back exhaust. That is a 46 hp increase to the wheels with two products.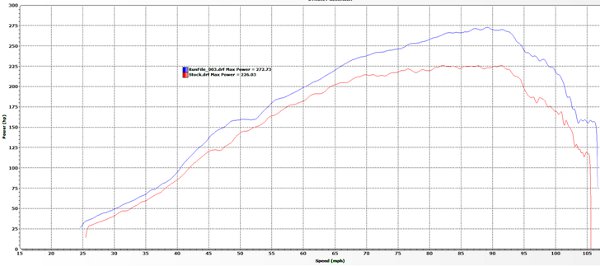 This is my suggestion on the easiest and cheapest way to gain 40 hp at the wheels. If you have a different/better way to do this using CS products, I would love to hear your comments.
For those of you on more of a budget, may I suggest just the Short Ram Intake  and racepipe , for an increase in wheel hp of upper 20's to lower 30's.
Any more questions feel free to shoot me an email.
– Jake