In the car game, there are two big shows each year where all the action happens: the Specialty Equipment Manufacturers Association (SEMA) and Performance Race Industry (aka PRI). At these events, automotive parts companies flaunt their accomplishments, showing off their latest and greatest mods and parts, while everyone gets a chance to network, catch up, and just generally ogle and chat about gorgeous vehicles. We here at CorkSport love to keep up on what's hot and new in the automotive industry, so this year we headed to Indianapolis for PRI to see what auto trends are being developed.
First Impressions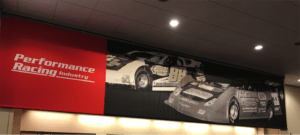 As we first entered the convention center, the stage was set. The picture above features the main PRI banner, which prominently displays some dirt mod cars. That can only mean one thing: PRI would be showcasing a lot of American muscle and, probably, not a lot of imports. Regardless, we braved the show.
The Cars, The Parts, The Highlights
Wandering the aisles of the show, our suspicions were confirmed. PRI had more American muscle than the lineup of cars Vin Diesel will drive in the next "Fast & Furious" movie. But, as we navigated the aisles, we were greeted by a sight for sore eyes — an import you can never go wrong with — a Le Mans-winning P1 car.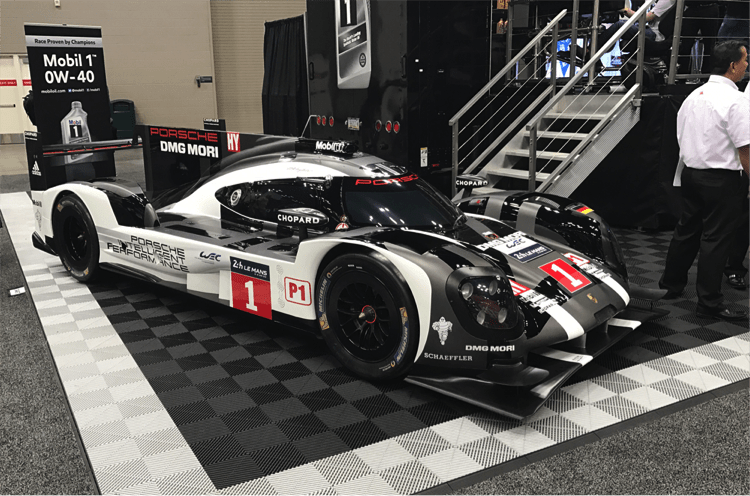 When it comes to performance cars, it doesn't matter if the car is an import or a domestic, one good thing about them is turbos. Good news from the show is that it looks like Garrett doesn't have any plans slow down on their production of turbos anytime soon, for themselves or for the Mazdaspeed 3. They had some great tech on display, which is never a bad thing. Feast your eyes on these beauties.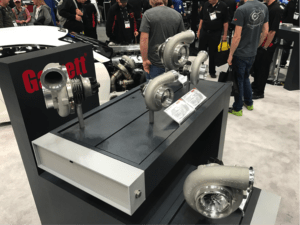 Next, we came across a nice surprise in the NASA booth — a paint scheme that any Mazda enthusiast should know. The NP01 is more than just rad-looking, it's powered by the 2.0 MZR motor and a large selection of other drivetrain parts making it very affordable when it comes to cost to own and cost to race. If you're in the market for a race vehicle and cannot afford one of the Lola/Multimatic-built Mazda Prototypes that Speedsource is selling, the NP01 is a great alternative.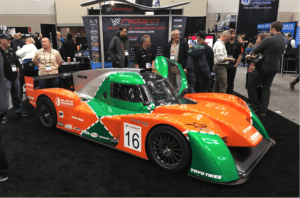 Finally, there was one big wow part we have to tell you about. Check out this crazy, billet Duramax Chevy motor.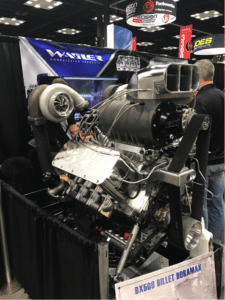 The DX600 Billet Duramax is a supercharged compound turbo setup. Looking for a billet aluminum block for your Chevy truck? We know you Mazda fanatics probably aren't, but this is really freakin' sweet piece of hardware regardless. Now, if only we could get someone to make a billet engine for the Mazdaspeed 3. Then life would be really sweet.
Hope you all enjoyed this PRI update as much as we enjoyed checking out cars and parts at the show. As always, at CorkSport we strive to keep you all apprised of the new and interesting car news you crave. Follow us on Facebook, Twitter, and Instagram for our latest news.