Dear Car Guy,
I was admiring how different all of your rides are. As a general statement, there are lots of ways to make your baby unique and personalize it to your style. At CorkSport, we try to do the same thing with our brand, our name and our reputation.
We love when we hear back from you that we've done great things with customer service:
Following up with your questions via email, phone calls, Facebook, forums, and face to face.
Sending out a little bit a joy with some of your packages.
Supporting you when something goes wrong and keeping in touch throughout your order fulfillment.
And just being a part of the conversations that happen within the Mazda platform.
We want (and try) to get you to engage with us too!
You frequently make us laugh by telling a joke or letting us know what you're thinking in the comment section that comes with your order.
WE LOVE HEARING FROM YOU and often we find a fun way to show you that we read your note, joke, sarcasm, or saw that you had a question.
Here are some of my favorites from recent months:
Jennifer sent out a "few" valentines to bring a smile and some happiness when you opened your order: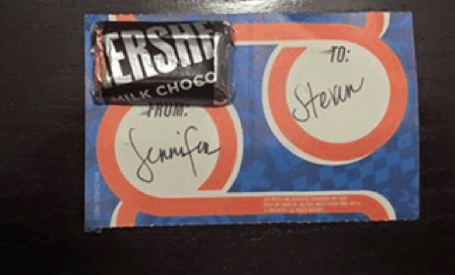 Our shipping team drew on some of your packages:

We sent out some extra goodies for you and your loved ones:

And we even shared a little bit of Mazda history with you!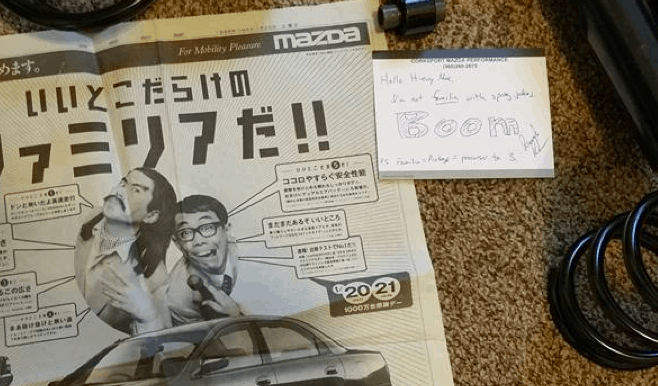 We hope you enjoy it as much as we do! It makes the day go by that much faster and gives us an opportunity to really connect with you and figure out what we can do to best serve you and your ride! We're here to help by bringing knowledge, parts, supplies, support, and hopefully good-natured humor and joy every once in a while!
ALWAYS leave a comment in your order. The more original you are with your notes, the more fun we can have in return!
Thanks for passing along the joy! Stay safe, stay fast, stay happy!