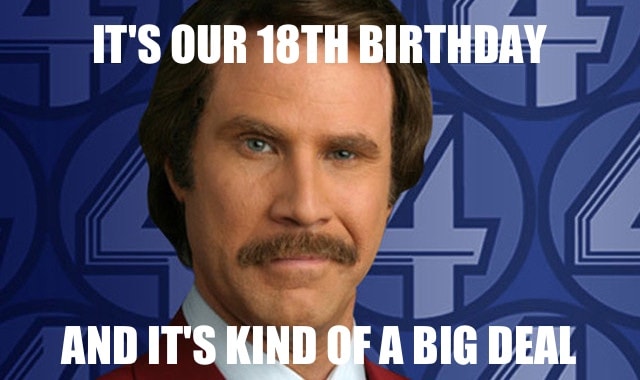 Today is officially the 18th anniversary of CorkSport! That means 18 years of eating, sleeping, breathing Mazda — and we couldn't be happier.
Check out some of our employees' favorite memories, seasons, and reasons for working at CorkSport.
Derrick Ambrose
I have plenty of great days at CorkSport. Several of the great moments are getting the first race win in the CorkSport Mazda 2 B-Spec car at Autoclub Speedway, the many customer events we've had at CorkSport in the past, and the opportunity to drive so many great cars. The best moments have been every time we've moved locations. It's always been into better and better facilities, which gives us the opportunity to grow into it, make our company better, and know the future is ahead with limitless possibilities.
Dustin Berentsen
My favorite memory so far of my time at CS was in late 2011 when a bunch of us went to SEMA in Las Vegas. I had been with CS for almost a year at that point and, while I had hung out with almost everyone outside of work individually, it was the first real time that we had gone and done something big as a group. It was also my first time going to SEMA, which was a cool experience. The highlight was the opportunity for team building and getting to know everyone in a neutral environment where everyone was just having fun. That was great.
Kelly Harris
After a decade with CS, here's my top 10 reflections/moments/cars/people:
10. Korean BBQ in Toyako with Derrick and Rich.
9. OCC.
8. All 8 of my Mazda's.
7. Mad bathroom dash through Mazda US's shop. The cars I saw, oh cars!
6. The Mazda community and the dear friends I've connected with.
5. CS parties, always fun.
4. Did I mention the cars?
3. The evolution of CorkSport as a business.
2. All present and past staff.
1. My husband.
Brandon Johnson
The NATOR BBQ. We got to see all the local community. I met new people that have become friends. These are people we talk to on a regular basis now!
Luke McCarvel
My favorite day working at CS has to be the company track day. I've never had an opportunity to attend a race day like that before. I learned a lot of things that day, which help my decisions in building my car now and down the line. One thing I'd like to note is how well a track day reveals the weaknesses of your car. I've always been into the 1320, so it was a huge eye-opener on how important something like brakes are. Looking forward to any future race days!!
Vincent Melon
My favorite season for working at CorkSport is always the summer. I'm as cold blooded as it gets and I really enjoy when the sun comes out so I can soak in all the warmth. Some of my favorite parts of working at CorkSport are staying late after work to build engines or work on some racecars with my co-workers and fellow enthusiasts. I love going out to all the events, shows, track days, and just meeting other Mazda fanatics. Making new friends and memories are the best parts. Oh, also did I mention summer is prime race season? 🙂
Kim Russell
I've enjoyed working at CorkSport and the hilarity that happens on a day-to-day basis. Not many know, but we're a small company, more like a family, and that allows for some amazing conversations, work parties, get-togethers, lunches, and meetings overall. We definitely have our serious moments, but it's the ones that bring us together that are my favorite. Especially the things we learn about one another through Cards Against Humanity battles, Nerf gun wars (surprisingly, I won our first one), and mandatory fun throughout the years.
Barett Strecker
There are many memories I could talk about, but probably the most hysterical was from the first company BBQ I attended a couple months after I started. The BBQ was at an employee's home a bit out in the country. They have lots of acreage and a couple ATV's. Being the country boy I am at heart, I hopped on the ATV to go exploring for JUST a few minutes. Two hours later, they finally found me and had to pull me out of a mud hole I was stuck in. I was covered head-to-toe in mud and had missed most of the BBQ, but it's a CS memory that will never be forgotten.
Here's to another 18 years of aftermarket Mazda parts!
Cheers,
CorkSport