Alright, boys and girls so it's time to turn up the CBR a notch and make her stand out.
Vincent from CorkSport here giving you the latest update!
If you have been following along, you know that we just got this brand new Mazda 3 not too long ago and decided we wanted to build it with you guys. In our most recent post, we asked for your opinions on a wrap for the car. Frankly, we wanted to collect more data to determine a real standout before we made a final decision, so we went back to the drawing board.
We also decided to take things a step further.
Before we decide to wrap it, we think we might do something a little bit more unique here and play with some body lines. We decided to make her pop and started exploring some options for body kits for the Mazda3. 
Now before you hit the next button and bail, hear me out.
I know the notion of body kits can leave many with a sour taste in your mouths. Some of you might think, "gross" or "you've got to be kidding me", and in all honesty, I totally get where you're coming from; I'm as "function over form" as they get. It's rare you see me doing anything to my Mazda's that does not ultimately have a true performance improvement goal intended. Maybe some nice LED's here or a lip there, but pretty much if I am replacing something, it's because I broke the original at the track, or need to upgrade to cut down on some lap times.
But for this Gen3 Mazda 3, since we are definitely going to have the performance end of things covered, we thought we might also explore some options that would make this ride visually unique as well. After all, the whole idea of the CBR is to have fun and to experiment!
On to the body kits we're considering.
When I began looking for body kits, the first thing I did was go straight overseas to some good names in the aftermarket body industry. (No, I'm not talking about Rocket Bunny, can we please just go ahead and kill that already?)
Anyhoo, I decided to start with two names that CorkSport is very familiar with: Those two brands are Autoexe and Knight Sports. If you have not heard of them before, you should definitely give them a look. They are two of the biggest Mazda Performance brands out of Japan. Even more so, they both offer high-quality parts and styling accessories for the Mazda 3. I knew they would both have something interesting to offer, so I wanted to share my selections with you to see what you guys think.
AUTOEXE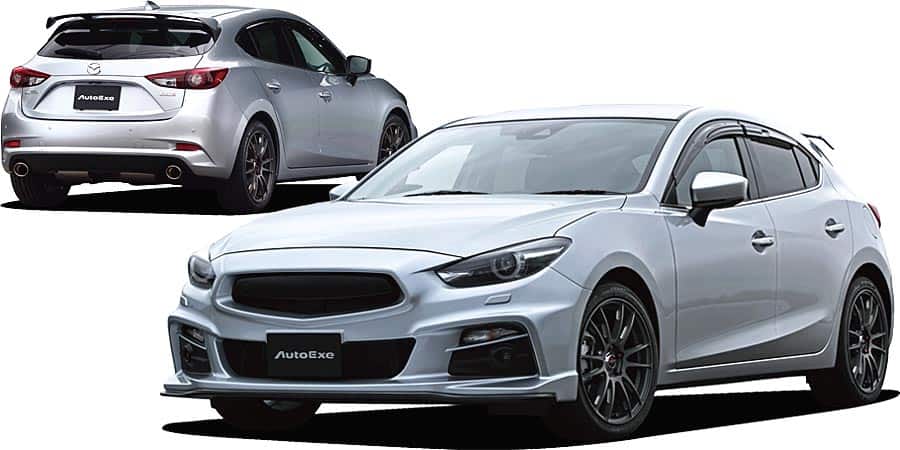 Autoexe offers two options for our Gen 3 Mazda3. Both simple and clean. One of the versions is just a rear spoiler and front bumper/grille. It does not even touch the side skirts or rear bumper. While this is not a bad option that makes for a simple look, I also wanted to explore something that would stand out a bit more; something that could catch the eye as a definite exterior modification.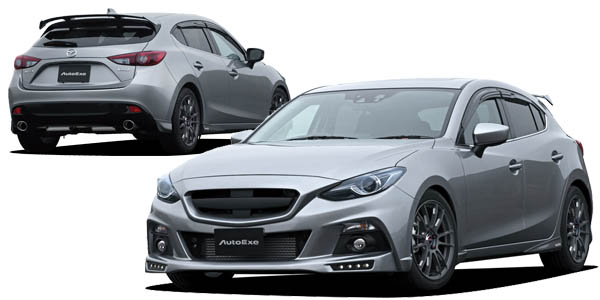 Now the 2nd kit they offer has a bit more to work with. It also is comprised of a front bumper/grill and rear spoiler, but it also adds side skirts and a little bit more aggressive styling. I liked this one because it has some nice LED fogs that are integrated into the bottom of the front bumper. A nice touch that is purposeful and visually stylish. The one drawback that I ran into however, is that both of these kits are both pre-facelift of the new car. Unfortunately for us, our car is brand spanking new and DOES have the face lift that Mazda provided for this model. That leads me to our next option…
KNIGHT SPORTS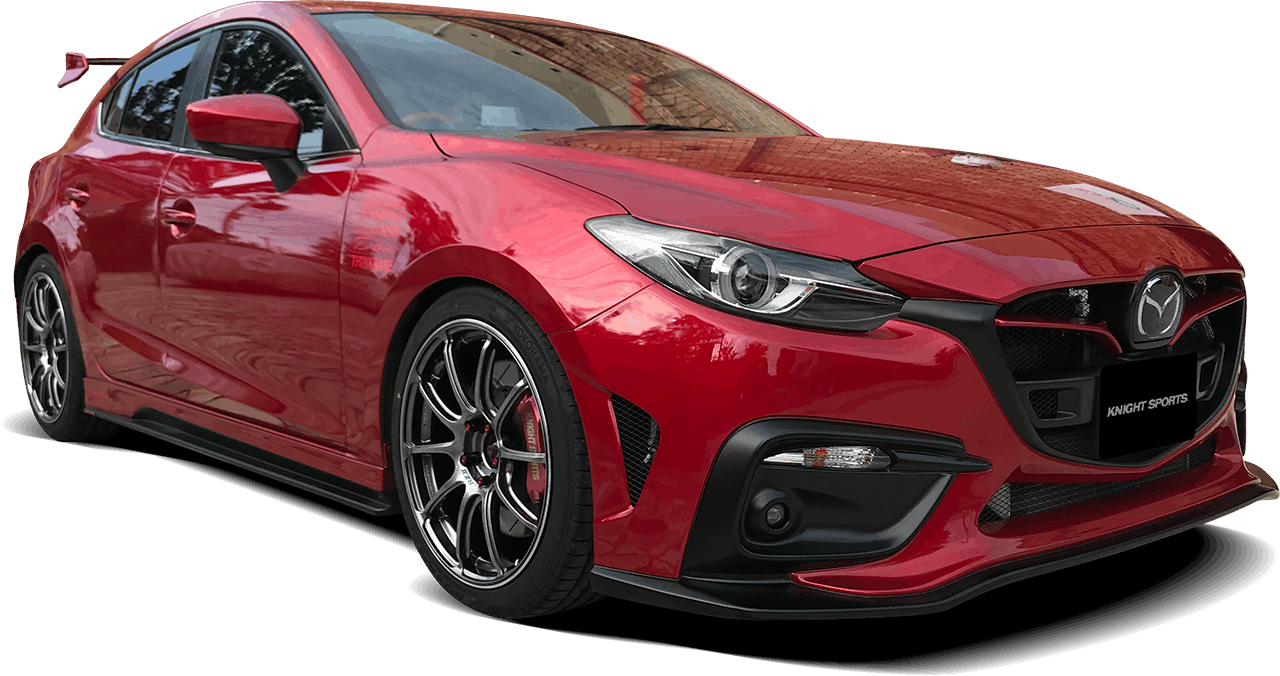 I'm not going to lie here: the Knight Sports kit looks mean. (In a good way.) It's aggressive, sleek, sexy, and fits all of the car's body lines so well. The front fascia is fierce and fits the look of the car so naturally. The side skirts are in just the right proportions for the doors, and the little rear wing on the hatch compliments the car oh so well. Not to mention that this kit includes the whole package deal, including a nice rear bumper. I mean look at it!
This exterior modification kit looks pretty sick, and would make any Mazda3 look tough. The only sad thing once again, is this kit is pre-facelift, so we will have to have a chat with them and see what can be done. Perhaps we can see if something can be brought to the masses? Either way, all I know is that I personally want one of these kits on my cars!
Take a look at each of these kits, and let us know which one of them you like better.
Do you love one and hate another? Or maybe you are not a fan of either, and can recommend an even better-suited suggestion. We'd love to hear your feedback, because after all, we're all building the CBR together 🙂
We want to give this CorkSport Branded Ride a new look asap, so drop a comment below and help us pick a direction!
Cheers,
Vincent @ CorkSport